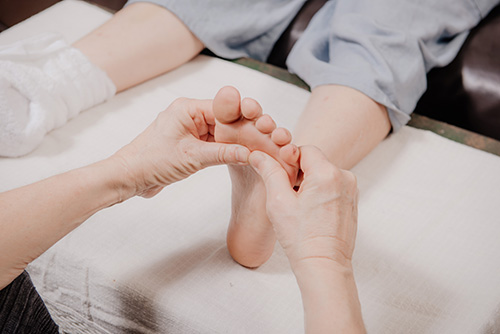 1 day
Hours: 9:00 – 4:00
Cost: $175 Early bird pricing one month before workshop  $150
6 NCBTMB hours
Dating back thousands of years, foot massage has served as a therapeutic tool for cultures all over the world. A foot massage is deeply relaxing, and benefits the entire body –  not just the feet. Ancient theory maintains that areas of the foot correspond to areas of the Entire body and that by stimulating certain "reflex" points of the feet we can assist the body back into its natural state of balance, thus providing overall better health and wellness.
This one day workshop will cover theory of foot reflexology as well as basic Techniques of foot massage. Students will learn a one hour sequence of Thai Foot massage, which is the "ultimate" in relaxation. Topics include:
Warm up techniques for the feet
Stimulation of 36 reflex points on the feet that correspond to all areas of the body. This is performed the "Thai" way - using a smooth, wooden stick which will be provided to students on the day of the class.
Thai massage techniques to provide a brief leg, arm & hand, and head, neck, & shoulder massage.
This will make a great addition to your menus of services. Your clients will love it!!
There will be a manual included with the workshop that has detailed instructions and photographs of techniques covered.